Shelf racking
Storing small parts and non-palletised goods is simple with our easy-to-assemble shelving racks. Galvanised plug-in sections mean they can be put together without screw-fixings and the sturdy shelves can be configured to different heights, widths and load-bearing capacities, and are equipped with multiple chamfers
OHRA shelf racks – flexible configuration
All OHRA shelf racks have been tested according to BGR regulations and are available in heights of 2,000mm, 2,500mm and 3,000mm, with optional rack widths of 400mm, 500mm or 600mm. Individual shelves can be supplied for bearing loads of 150kg, 250kg or 330kg, and the maximum bay load is 1,500kg.
OHRA shelf racking advantages
Clear and tidy small part storage
Easy assembly
Height adjustable shelving in grid heights of 25mm
Low cost, flexible storage solution
Double-sided racks also available
---
Large-span racking
Our large-span racks have larger bay widths and higher load-bearing capacities - making them the superior storage option for light and medium-heavy or large-volume and bulky goods, such as wallpaper, foam panels, packaging or cardboard boxes.
Instead of shelves, horizontal beams are hooked in and optionally equipped with chipboard plates or galvanised steel panels. We offer bay heights of 2,000mm, 2,500mm and 3,000mm, and heights can be adjusted at a grid of 25mm. Bay widths come in options of 1,500mm, 2,000mm and 2,500mm with rack depths of 500mm, 600mm or 800mm. Other heights, depths and bay widths available on request. The maximum bay load is 2,500kg.
OHRA large-span racking advantages
Robust, versatile rack solution, also suitable for small parts
Flexible bay sizes and frame depths
Ideal for bulky and high-volume items
Easy assembly
Chipboard plate or galvanised steel panel shelf options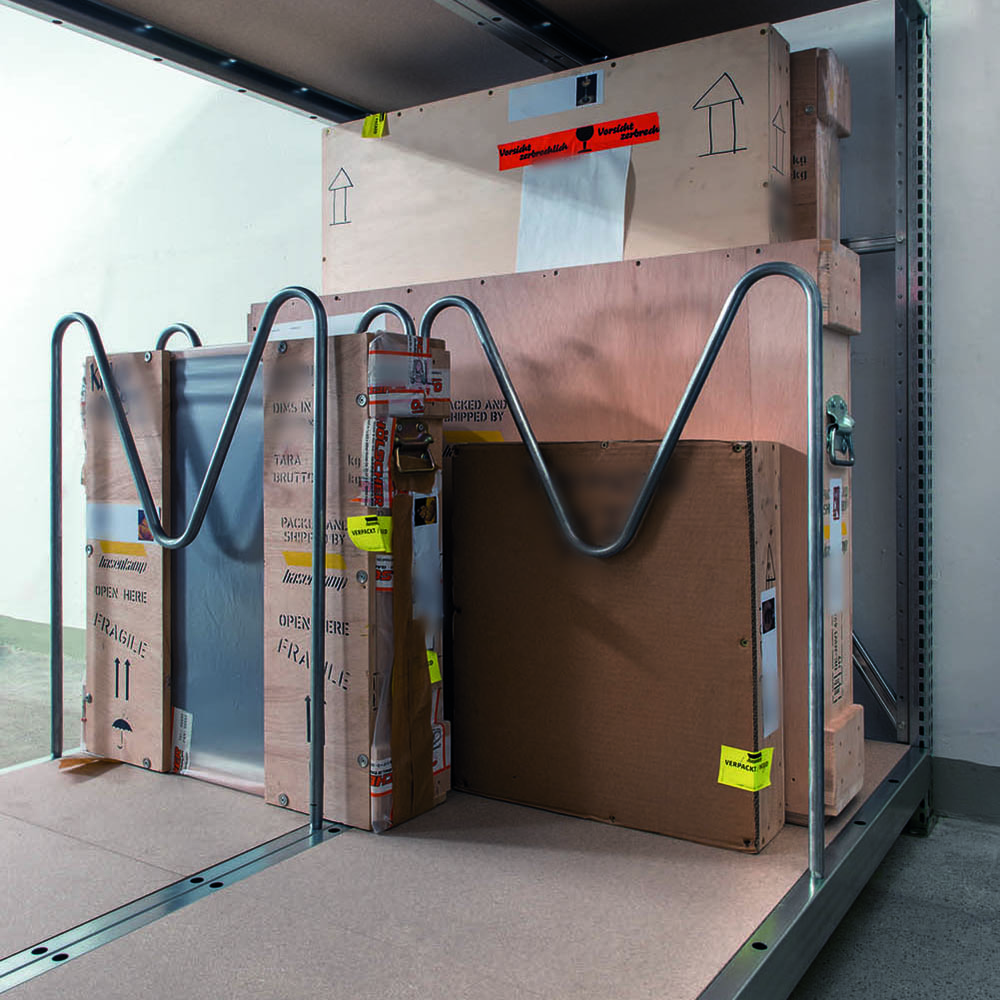 ---
Accessories for shelf and large-span racks
You can choose from a large range of accessories to configure and extend your shelfing racks, including:
Additional shelves with various load-bearing capacities
Different separation brackets for versatile subdivision
Identification systems for fast finding items
Get in touch to find out what bespoke options are available.