Storage systems for scenery and stage sets
Scenery is an integral part of any theatrical or cultural production, and can sometimes be bewildering in its complexity. But when the curtain goes down, that scenery must be safely stored for future performances. That's where OHRA comes in. As most scenery elements are big and unwieldy, storing scenery is a difficult task that demands the attention of storage experts.
As Europe's leading manufacturer of storage and racking systems for museums and theatres, we can design, build and assemble safe and secure storage built to your precise specifications, and suitable for every type of storage facility.
Our cantilever racking systems are highly popular with theatres and opera houses as they can double the capacity for storing stage sets, without compromising on safety. Our variable cantilever racking system uses arm connectors that adds additional storage depths of up to 2.5m, and depending on the height of your warehouse, could give you an additional 5-6 storage levels.
---
Mobile racking
Used by the Zurich Opera (Switzerland) and the State Theatre in Stuttgart (Germany), our mobile racking systems can double your existing storage capacity when compared to standard fixed racking alternatives.
Our trolley-mounted cantilever racks allow a substantial quantity of goods to be stored in closed aisles in a confined space. Remote-controlled operation ensures that your desired aisle will be opened only when required, making it easier to store and locate specific items.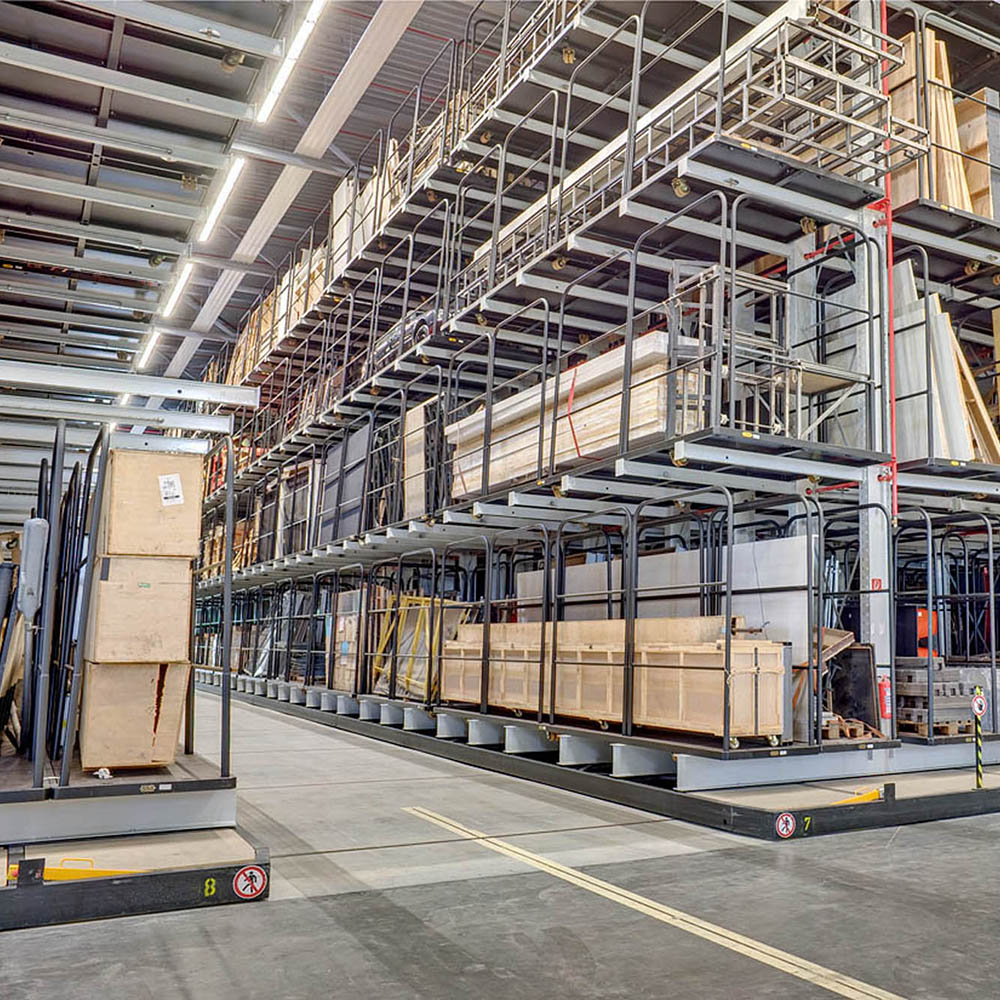 ---
Mezzanine floors
Our mezzanine floors can increase your existing storage area without eytensions or expensive reconstruction work, giving you the space you need for stage props such as furniture, lamps or scenery sets and costumes. We can design and build mezzanine floors with up to 5 levels.
All our mezzanine floors are completed by stairs with grating or wooden steps and screw-fixed bannisters (including handrail and knee rail). Each floor can be configured for different loads and other requirements, allowing you to store scenery in a space-saving and highly visible manner.
---
Pallet racking
Alongside mezzanine floors, sturdy wide-span and pallet racks are ideal for storing stage props and other equipment. While our wide-span racks are suitable for bulky by relatively light objects, our pallet racks have compartment widths of more than 4,000mm, making them suitable for storing heavy art objects or packaging boxes. Our pallet racks are constructed with safety and durability in mind, and comply with all necessary safety requirements.
---
Vertical storage
Our vertical racking system guarantees a high load bearing capacity - especially good for storing heavy, bulky objects, or those of different dimensions and weights - as well as for fast handling in the workshop.