At OHRA we believe that cantilever racking is the ideal storage system for our timber trade customers. We know this because we invented and perfected height-adjustable cantilever arms that are the standard for all carpentry storage.
OHRA cantilever racking gives you maximum timber storage capacity on a small footprint thanks to the sturdy but slim hot-rolled steel profile construction.
All our racking is made to order to fit your timber warehouse and precise product storage requirements.
---
Cantilever racks
If you need a storage system for long, heavy or bulky composite panels, such as chipboards, sawn timber packages or solid wood, an OHRA cantilever racking system should be your first choice.
The cantilever racking column, bases and arms are constructed from robust, hot-rolled steel profiles to allow for the safe storage of your goods. Our cantilever arm racks feature a patented boltless slot-in assembly that ensures arms can be repositioned in seconds. They have a 20-degree incline and a load-bearing capacity of up to 800kg per arm, making it easy to store long materials gathered by forklift or crane with no impact damage. OHRA cantilever racking can be placed inside or outside.
OHRA cantilever racking advantages:
Racking uprights and cantilever arms made of solid, hot-rolled IPE steel sections
Robust, hooked-in inclined arms avoid damage to the racking and more importantly your stock
Rack columns punched every 100mm on both sides
We only use solid profiles - so no hidden cavities where rusting can start
Can be fitted with roof, rear wall and gutter for external use
High-quality powder coating
Hot-dip galvanised design for outdoor storage
All cantilever racking custom manufactured to match the stored goods and be delivered and assembled on request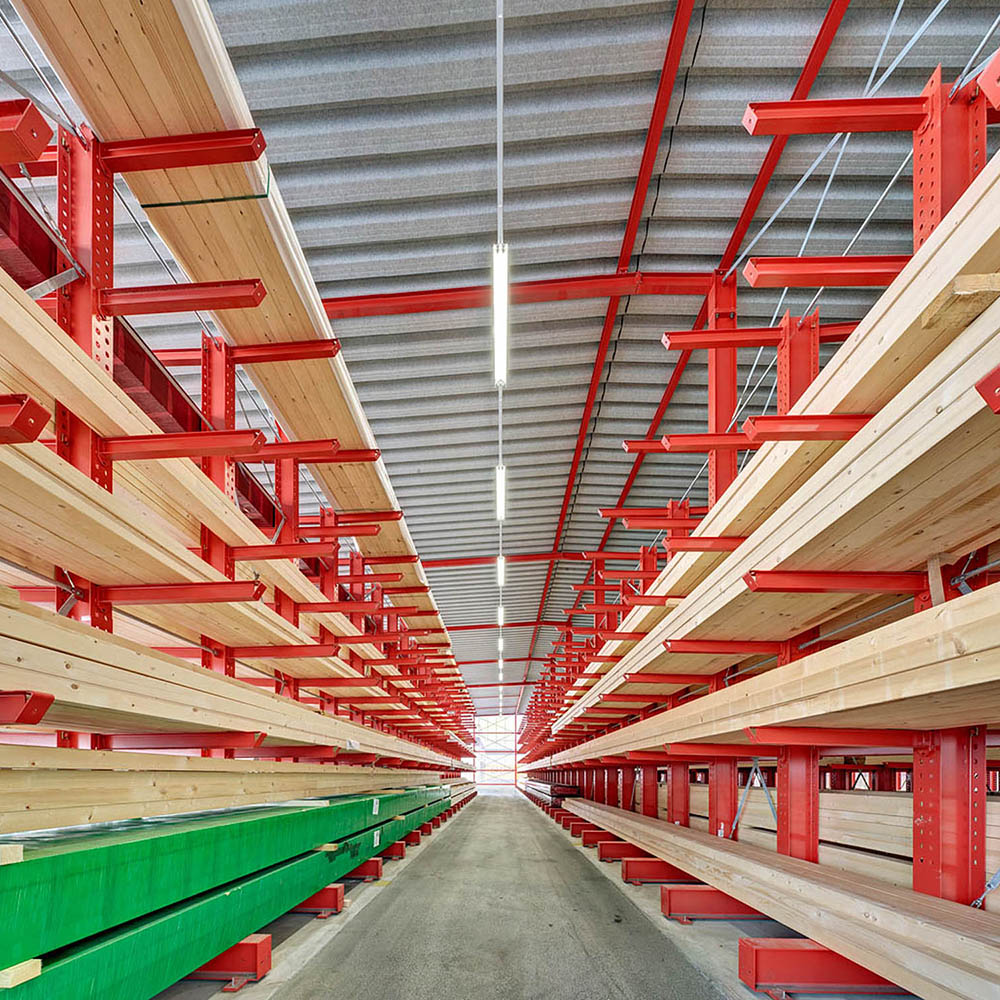 ---
Pallet racks
Our pallet racks are constructed with durability in mind. They are made from hot-rolled steel profiles instead of thin sheet metal, ensuring they are efficient even when bearing heavy loads, and are safe enough to be used in the warehouse or customer-facing areas.
At the same time, pallet racking is an economical option because of the larger bay widths. This means they require fewer components than conventional rack systems with a lower load capacity.
OHRA pallet racking advantages:
The low-cost, flexible storage solution
Max bay load: 32,000kg
Max beam load: 5,100kg
Standard beam width up to 4,500mm
Available with roof, wall or as complete rack clad building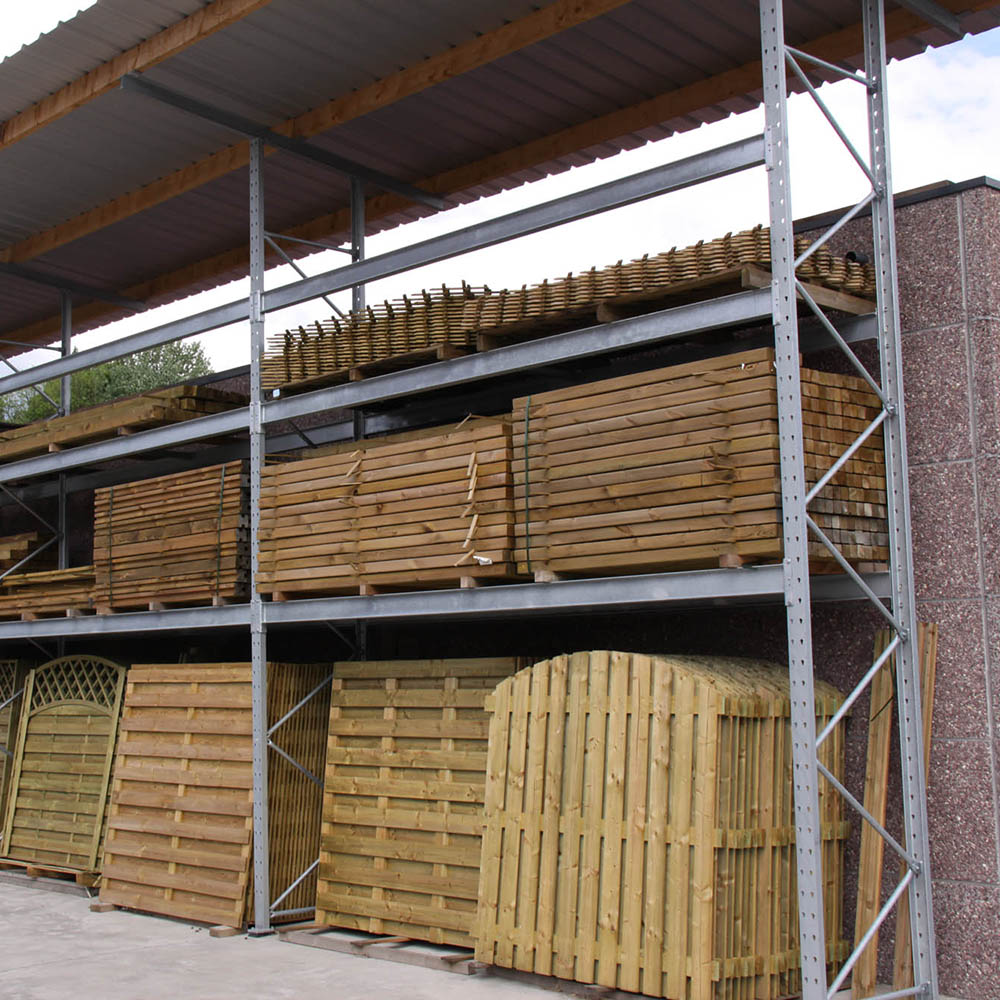 ---
Vertical racks
For upright storage of chipboard panels directly into the cutting area, there is no better alternative than our robust vertical rack system. We can design vertical racks of different sizes for use directly in your timber warehouse or showroom, and with different designs, colours and dimensions.
For easy entry and exit of the products, high-quality roller conveyors are mounted in front of each rack stack. Racks can be subdivided by separating brackets, or optional separating arms for fast and direct access to the product.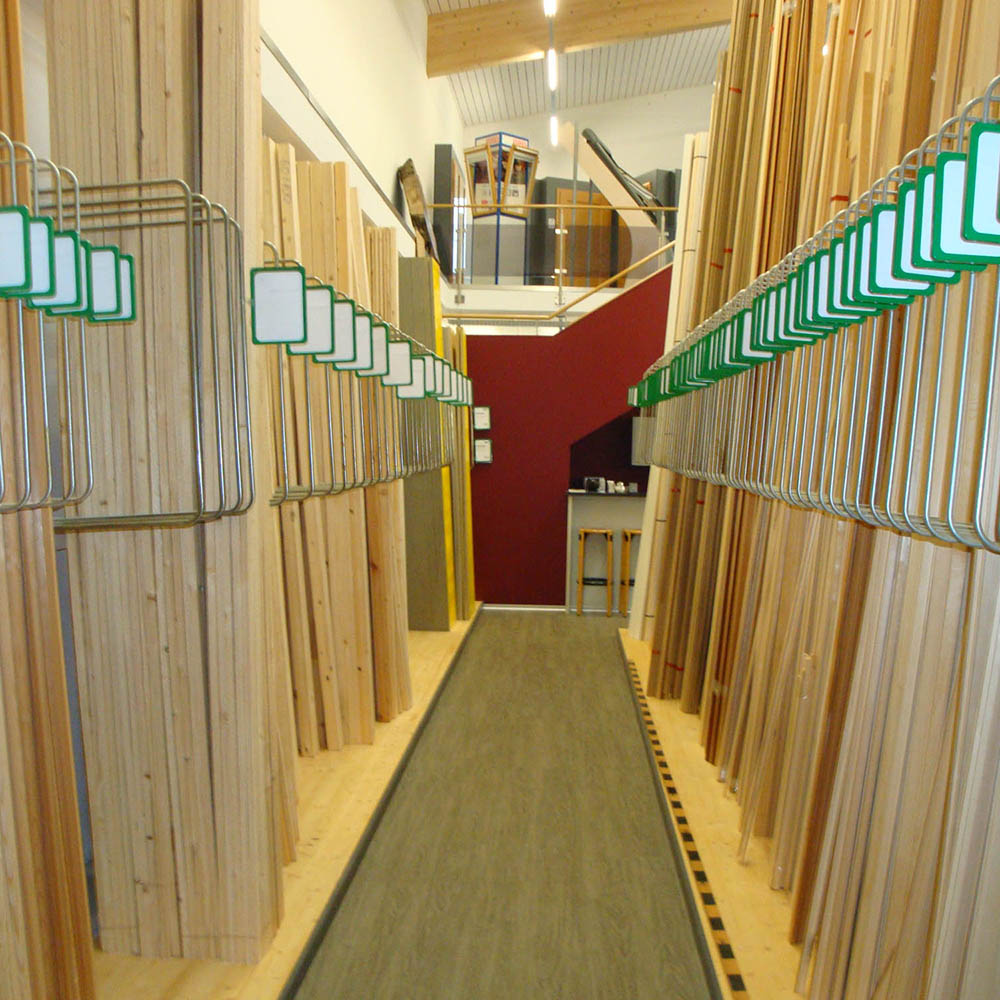 ---
Automated racking storage system
An automated racking system - either with partial or fully automated loading and unloading - gives you the ultimate in storage optimisation: speed, dynamics, safety, energy and cost savings.
Depending on your requirements, whole packages or single panels can be taken and transported to the transfer station, using the 'goods-to-man' principle.
OHRA automated racking advantages:
Highest possible handling turnover for picking orders
Choose from manual or fully automatic control, and change at any time
Storage and retrieval vehicle can serve several lanes using automatic cornering technique
Interface with customer ERP software via a module
Reduced investment costs and optimal price-performance ratio