Automatic Storage Systems
According to the requirements for a semi-automatic or fully-automatic warehouse, our specialists will plan and configure the selection of the appropriate conveyor device and the suitable racking systems in close collaboration with our customers. Configuration of the crane stackers is based on the type of automation task, the products and the spatial conditions. All stacker cranes may be designed both aisle-bound or with curve-operation option. Thus, the customer can operate several rack aisles with only one device.
---
---
Stacker cranes
With a load-bearing capacity of up to 8 tons, the device from this model range is particularly useful when handling heavy and large-volume goods in high-rise racks is required. This is particularly the case in the building materials, timber, slab or paper-processing industries.
OHRA two-mast stacker crane for long goods and heavy products
Thus, economic storage is possible with a small footprint. Using the "man at the goods" principle, the manual standard devices with standard platforms can be used for direct order-picking at the rack.
OHRA stacker cranes for long goods – your benefits
Particularly suited for long goods
Bearing loads of up to 8,000 kg
Device can be delivered with a platform for manual order-picking
Curve-operation - handling of several aisles possible
OHRA stacker crane for storage heights of up to 12 m
For automatic storage of Euro pallets and pallet cages in storage heights of up to 12 metres, OHRA provides a special stacker crane model as a true alternative of VNA trucks. The device can be curve-operated, is favourably priced and is based on a modular concept. Its special chassis also allows for direct driving on the hall floor.
OHRA stacker cranes for storage heights of up to 12 m – your benefits
Particularly suited for order-picking warehouses or automated buffer warehouses
Building height of up to 12 m
Alternative for very narrow aisle warehouses
Curve-operation - handling of several aisles possible
OHRA stacker crane for storage heights of up to 25m
This OHRA stacker crane is intended for storage of pallets and pallet caged materials in high-rise racks of up to 25 metres and has successfully performed in the automation market for decades. Typically equipped with telescopic forks for single- or double-depth storage or alternatively with a shuttle system or special load-carrying device – with customised configuration depending on requirements. Fully automatic option or semi-automatic operation with complete driver's cabin.
OHRA stacker cranes for high-rise racks – your benefits
Particularly suited for high-performance warehouses
For pallets and pallet cages, building heights up to 25 m
Curve-operation - handling of several aisles possible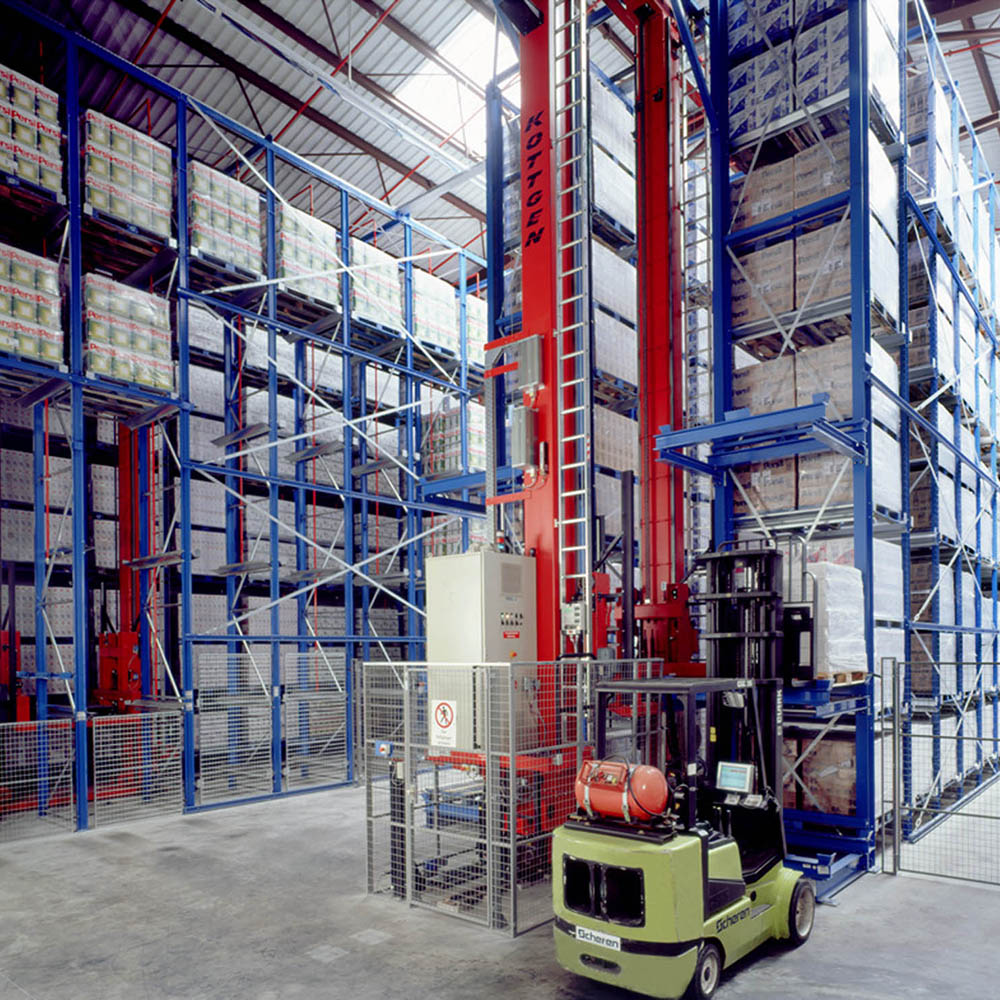 ---
Warehouse management software
The entire material flow of a warehouse or a production facility can be controlled fully automatically. Our strengths are especially in scenarios with new products, where the goal is to adjust the logistics system to your existing organisation structure, not the other way around(!). The basis for this is an initial analysis of the actual situation and a jointly deduced future forecast. Based on the data collected on item turnover and company structure, we will develop solution concepts together with your employees. These will later be used as a specification book for automated storage.
OHRA warehouse management software - digital automation
The WMS is a comprehensive and optionally configurable standard system. You can achieve fast and lasting cost savings through optimum deployment of employees and technical system and simultaneous improvement of the process quality and reduction of the storage volume.
OHRA warehouse management software
Analysis of the actual situation
Solution development
Presentation of results
Compilation of the specifications book
Optimisation of storage capacity
Fifo-Lifo-BBD
ABC classification
Blocking of bays/stock
Order-picking optimisation