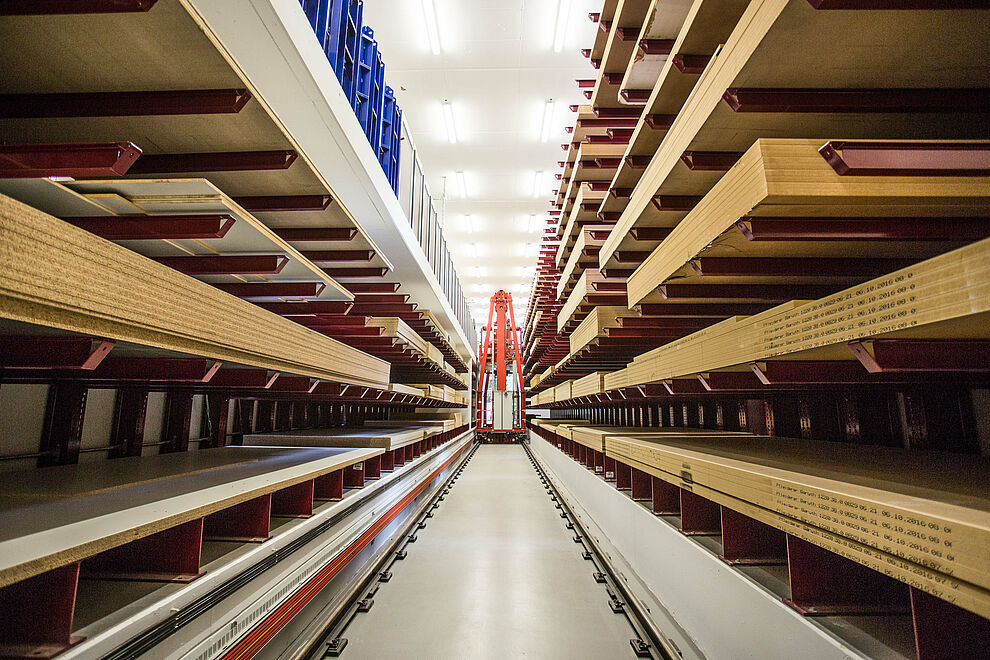 Innovative automation
Warehouse automation has become essential for modern companies who want to maximise speed and save time and money without compromising on safety. An investment in an automated warehouse quickly pays for itself.
The basis for an automated warehouse comes with choosing a suitable automated racking system that ensures the the advantages of automation: speed, dynamics, safety, energy and cost savings. At OHRA, we believe almost all racking systems, including shelving for small parts, can be automated, but the key factor is to determine which goods are being stored and moved (long and bulky goods are best suited for cantilever racking, whereas the pallet rack is the first choice for palleted goods).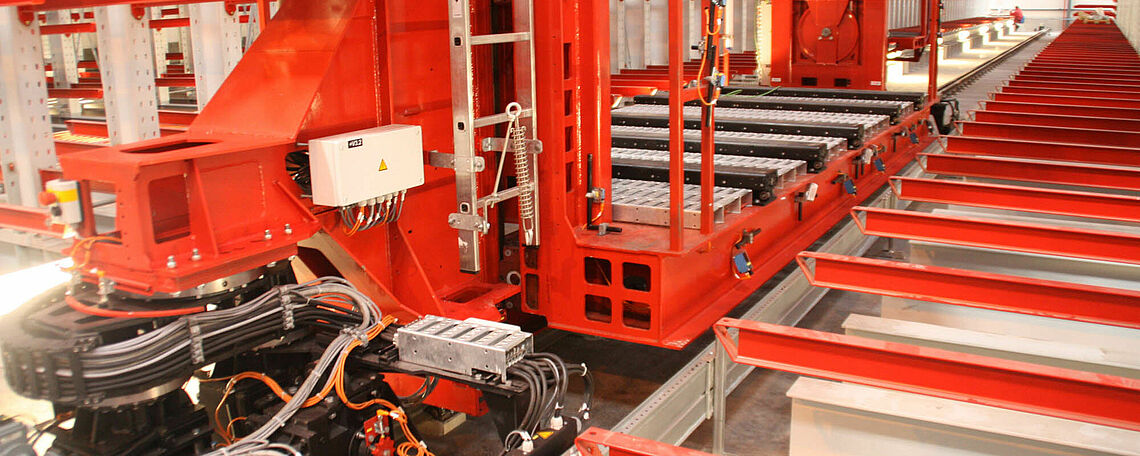 OHRA automated storage advantages :
Storage and equipment planning from one source
Warehouse management software available
Wide range of equipment types
Both curve-going and straight-running units possible
Up to 8,000kg load capacity
The operating mode of the storage and retrieval machine depends on the function of the warehouse. Here's a quick breakdown:
---
Semi-automatic warehouse
A semi-automatic warehouse uses a storage and retrieval machine for certain tasks and processes, such as order picking, and the machine will move automatically to the racking position determined by the operator. The precise positioning in front of the racking position is fully automatic, while onloading and offloading is controlled manually by the operator.
Fully automated warehouse
In a fully automated warehouse, all processes are pre-set on warehouse management software. Commands are transmitted automatically to the control unit of the storage and retrieval machine. All steps (including racking unit start-up, positioning in front of the racking position, lifting and lowering of loads, and journey to pick-up station) are fully automated, without any warehouse staff involvement.
Automated warehouse key info:
One storage and retrieval machine to serve several aisles
Connects to warehouse management system
Very narrow aisle width
Top storage level up to 20m in height, and loads of up to 5 tonnes
Can store products up to 8m in length
Fully automated order picking warehouse
In a fully automated order picking warehouse, all storage and retrieval, picking and provision of order-related packages is fully automated. This increases the efficiency of the entire storage and order picking process, and uses available space while reducing goods damage. If a shipping order requires the picking of different individual sheets, a vacuum manipulator has the corresponding articles ready for shipping, ensuring several orders can be processed at the same time. As a result, two separate systems can put orders together very efficiently in the smallest space.
---
Stacker cranes
Stacker cranes are rail-guided vehicles for handling goods in an automated racking system. The maximum height of a stacker crane is 46m. Depending on the stored goods, weight and dimensions, a distinction is made between different types of stacker cranes, with three options described below:
OHRA two-mast stacker crane for long goods and heavy products
With a load-bearing capacity of up to 8 tonnes, a two-mast stacker is particularly useful when handling heavy and large-volume goods and high-rise racks are required. Often used to stack building materials, timber, slabs or in paper-processing industries a two-mast stacker can store large volumes of long goods with a relatively small footprint and for a reasonable cost.Our manual standard devices with standard platforms can be used for direct 'man at the goods' order-picking at the rack.
OHRA two-mast stacker cranes advantages
Particularly suited for long goods
Bearing loads of up to 8,000kg
Device can be delivered with a platform for manual order-picking
Curve-operation - for handling several aisles
OHRA stacker crane for up to 12m storage heights
Our special stacker crane can help you achieve automated storage of Euro pallets and pallet cages in heights of up to 12m, making it a superior alternative to VNA trucks. The crane's chassis allows for direct driving on the hall floor. The device can be curve-operated, is favourably priced and is based on a modular concept.
OHRA 12m stacker crane advantages
Particularly suited for order-picking warehouses or automated buffer warehouses
Modular concept
Building height of up to 12m
Suitable for very narrow aisle warehouses
Curve-operation for handling several aisles
OHRA stacker crane for up to 25m storage heights
Our high-rise stacker crane is ideal for the storage of pallets and pallet caged materials in high-rise racks of up to 25m. It can come equipped with telescopic forks for single-depth or double-depth storage, or with a shuttle system or special load-carrying configuration, fully customised for your requirements. You can choose from a fully automated version or semi-automated version with a complete driver's cabin.
OHRA high-rise stacker crane advantages
Particularly suited for high-performance warehouses
For pallets and pallet cages with storage heights of up to 25 m
Curve-operation for handling several aisles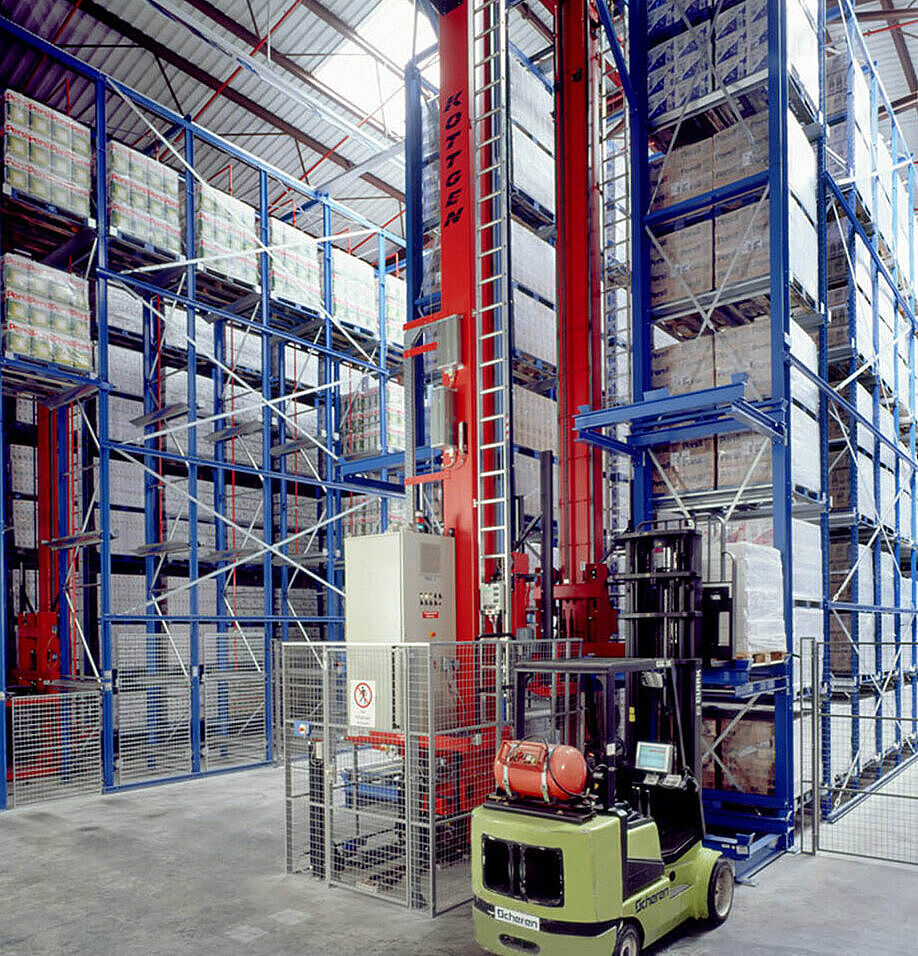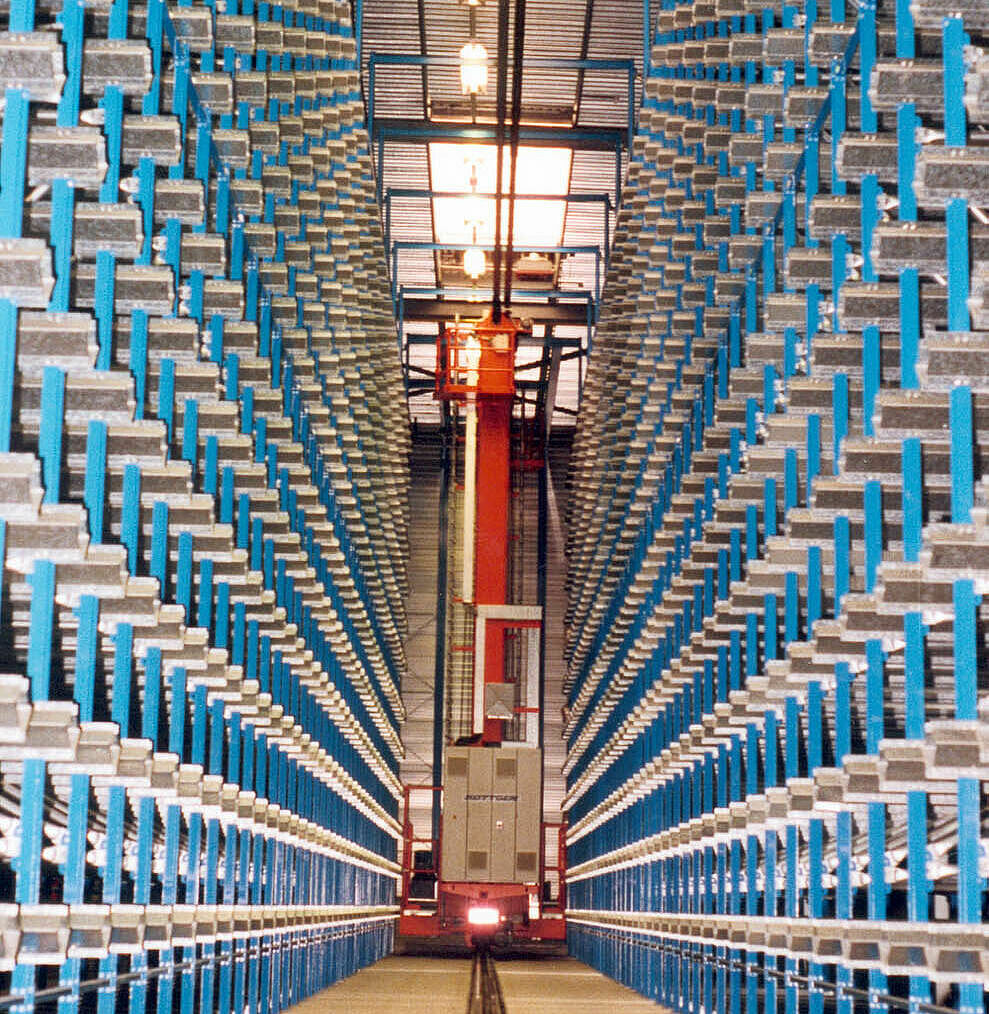 ---
Warehouse management software
We can design fully automated warehouse management software that develops a logistics system suited to your existing organisation structure. Based on data collected on item turnover and company structure, we can work with your employees to develop concepts to be used as a specification book for automated storage. The result is a comprehensive and optionally configurable standard warehouse management system that can achieve instant and sustainable cost savings.
OHRA warehouse management software advantages
Real-world analysis of your existing infrastructure to improve the process quality of your warehouse and technical system
Ensures emploxees are being deployed effectively
Solution development
presentation of results and specification book
Optimisation of storage capacity
Fifo-Lifo-BBD
ABC classification
Blocking of bays/stock
Order-picking optimisation