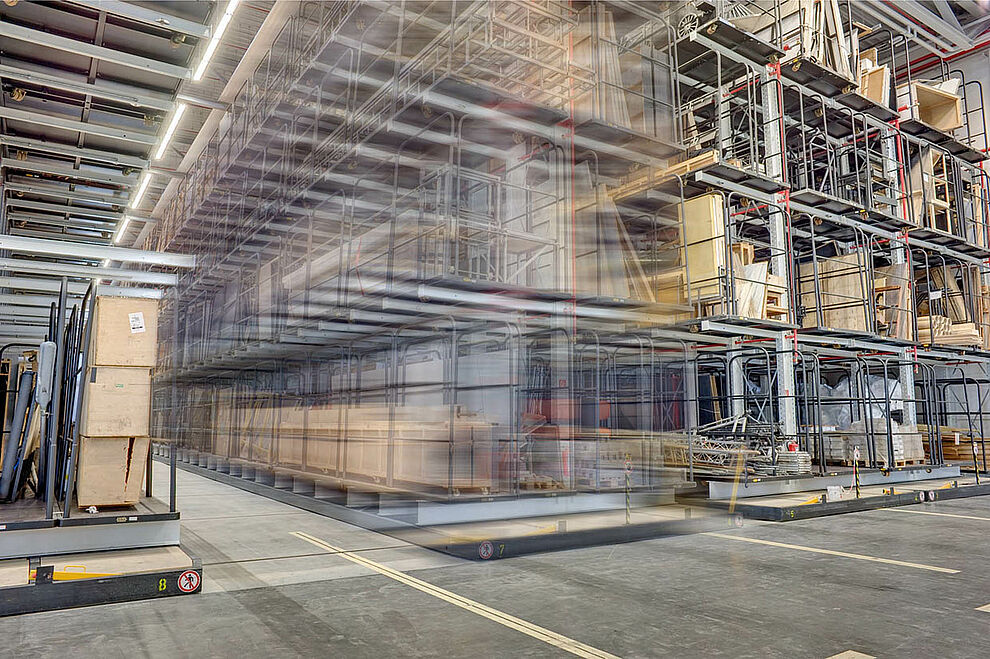 Storage systems for cultural applications
Safe and economic storage systems for museums, galleries, theatres and operas are also part of the OHRA product range. We provide the suitable storage system for your valuable pieces of art - be it sliding partition walls, pallet racks, shelf and picture racks, storage platforms and cantilever racks for long or bulky goods.
OHRA racking for museums, etc. – bespoke solutions
As a manufacturer of storage racks, we are happy do advise you on selection of the best suitable systems for your operations. We will provide assistance from the planning stage to assembly and will find the best solution for your applications. Customised dimensions, special constructions, flexible adjustments to existing buildings, etc. can be easily implemented by means of OHRA racks, also for your cultural applications. Send an inquiry directly to the manufacturer.
OHRA racking for cultural applications – your benefits
Directly from the manufacturer; one-stop-shop for all supplies and services
Suitable systems for any kinds or technical requirements
Comprehensive range of accessories
See our website www.culture-depot.de for more detailed information on our racking solutions, especially for cultural applications.
---
Die OHRA Depotschiebewände sind extrem stabil und erschütterungsfrei, auch bei hoher Belastung. Diese Lager-Möglichkeit eignet sich für hängende Kunstwerke wie Gemälde, Grafiken etc. und das bei gleichmäßig verteilter Last. OHRA nutzt für die Depotschiebewände die Möglichkeiten der Lastabtragung durch an die Decke befestigter Profile oder durch eine Boden-Stahlkonstruktion. Je nach Anforderung Auswahl verschiedener Führungssysteme
OHRA Regale mit Depotschiebewänden - Ihre Vorteile
Freistehende und deckenabgehängte Lösungen für alle Qualitätsanforderungen
Hochwertige erschütterungsfreie Führungen
Robuste verzinkte Drahtmatten
Paletten-, Weitspann- oder Fachbodenregale sind das ideale Lagersystem für eine Vielzahl von Museums- und Kunstgegenständen. Insbesondere schwere, unhandliche und sperrige Objekte finden in diesen wirtschaftlichen Lagerlösungen ihren Platz.
OHRA Regale zur stehenden Lagerung - Ihre Vorteile
Modulare Bauweise
Auch für hohe Lasten geeignet
Vielseitiges Zubehör
Für die Lagerung von Bühnenbilder im Außenlager von Theater und Opernhäuser setzt OHRA Kragarmregale auf Verfahrwagen ein. Bühnenbilder sind klassische Langsamdreher, die zur selten zum Einsatz kommen, aber extrem teurer in der Herstellung sind. Durch die Verschiebetechnik werden die Bühnenbilder kompakt und sicher bis zum nächsten Einsatz gelagert.
OHRA Regale mit Verfahranlagen - Ihre Vorteile
Bis zu 100% mehr Lagerkapazität möglich
Ferngesteuerte Bedienung
Sicherheit nach der CE und BGR 234
---