Industry-specific storage systems from OHRA
We work hard to understand the storage needs of your business, and to design, build and install the right solution. When you need to store aluminum or plastic goods of a particular shape, length or quality, we recommend a space-saving cantilever racking storage system that ensures the goods can be stored and removed efficiently, even in the smallest of available space.
We also offer a wide range of accessors and dividers to keep different materials separate in one storage level, as well as ID plates to identify different items.
Effective warehouse systems by RBB Aluminium
---
Cantilever racks
We recommend OHRA cantilever racking systems for these reasons:
We use robust hot-rolled steel profiles instead of thin sheet metal. This means our cantilever racking has high load-bearing capacities with a slim-build profile
The flexible, height-adjustable cantilever arms move upwards and sideways on impact to avoid damaging products
You benefit from a cost-effective storage solution that offers high storage capacity while taking up minimal space
OHRA cantilever racking is built to last. Our racking is custom-manufactured, built to match your specific stock requirements, and is delivered and installed on request.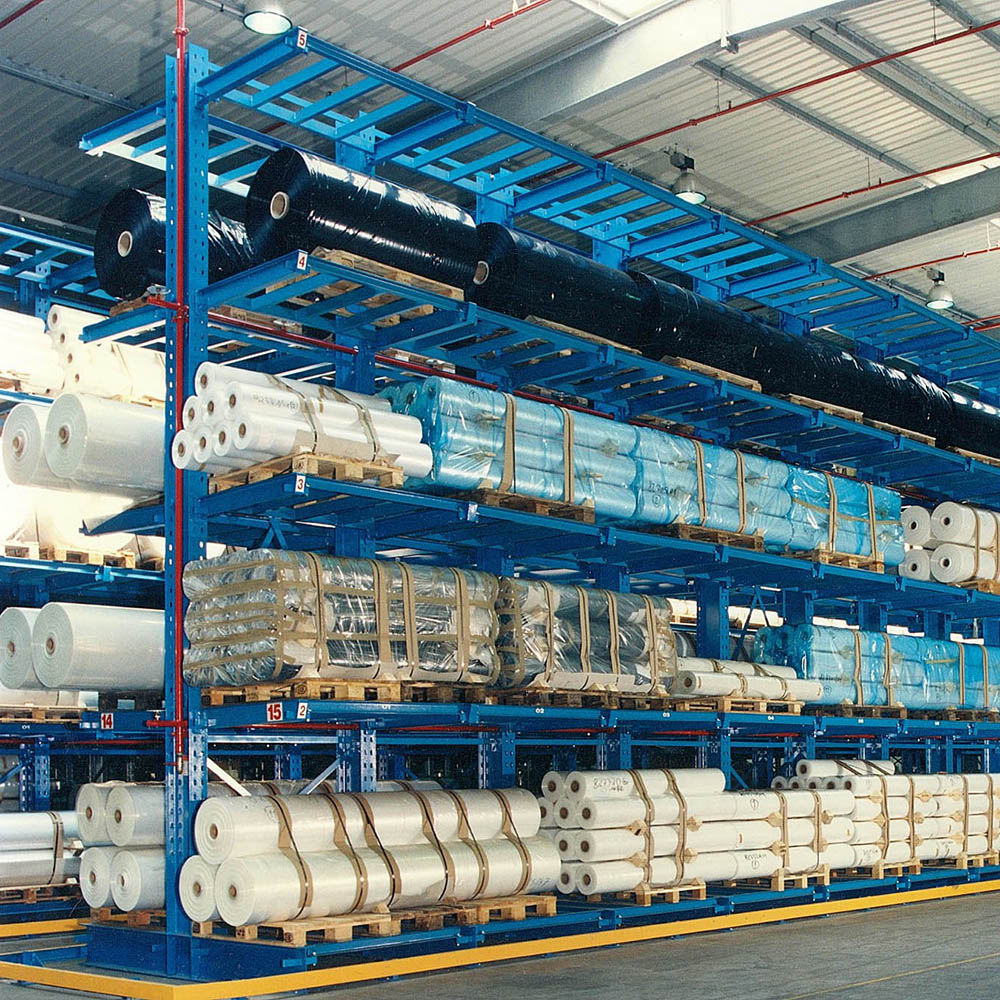 ---
Mobile rack systems
Make the most of your available storage space with mobile cantilever racks. Our mobile racks can double your storage capacity, and are an ideal solution for storing bulky goods with low frequency of access - without compromising on safety. Our mobile racks are mounted on floor-installed traversal carriages of up to 70m, with the required aisle opened by an electronically controlled drive train.
---
Storage halls with roof and wall covering
When you're constructing a new storage hall, finding the right balance between storage functionality and available space is top priority. Having carried out more than 1,000 installations over five decades, our self-contained storage halls are designed to give you the perfect cost-effective solution. We offer standardised pallets and cantilever systems that can be fully configured and adjusted to suit your storage needs. We can take care of everything, from design, construction, manufacture, delivery and installation, while working closely with you to make sure costs stay within your budget.
---
Storage and shelving platforms
If you need to make the best use of your existing ceiling clearance, OHRA steel mezzanine storage platforms can give you the versatile solution you need. We can install a self-supporting construction in an existing warehouse and adapt it to your specific space and building layout. And thanks to the robust construction and modular approach of OHRA racking, we can custom-fit a combination storage platform and racking system to suit your space and storage requirements.