Storing furniture and treated wood requires specialist care and attention. It also needs to be capable of being stored safely and economically, while still being easy to transport when needed.
At OHRA, we are specialist in designing storage systems suitable for furniture and other wooden products. We can work with you to help ensure:
Your storage system makes the best use of existing space and surfaces
Picking routes are optimised for speed of transport
Full integration into your stock and production flow
The storage system you choose is cost effective and of the highest quality
---
Cantilever Racks
If you need a storage system with direct access to long, heavy or bulky composite panels, such as chipboards, MDF, sawn timber packages or solid wood furniture, an OHRA cantilever racking system has to be your first choice.
We use robust hot-rolled steel profiles instead of thin sheet metal. This means our cantilever racking has high load-bearing capacities with a slim-built profile. The flexible, height-adjustable cantilever arms move upwards and sideways on impact to avoid damaging products. You benefit from a cost-effective storage solution that offers high storage capacity while taking up minimal space.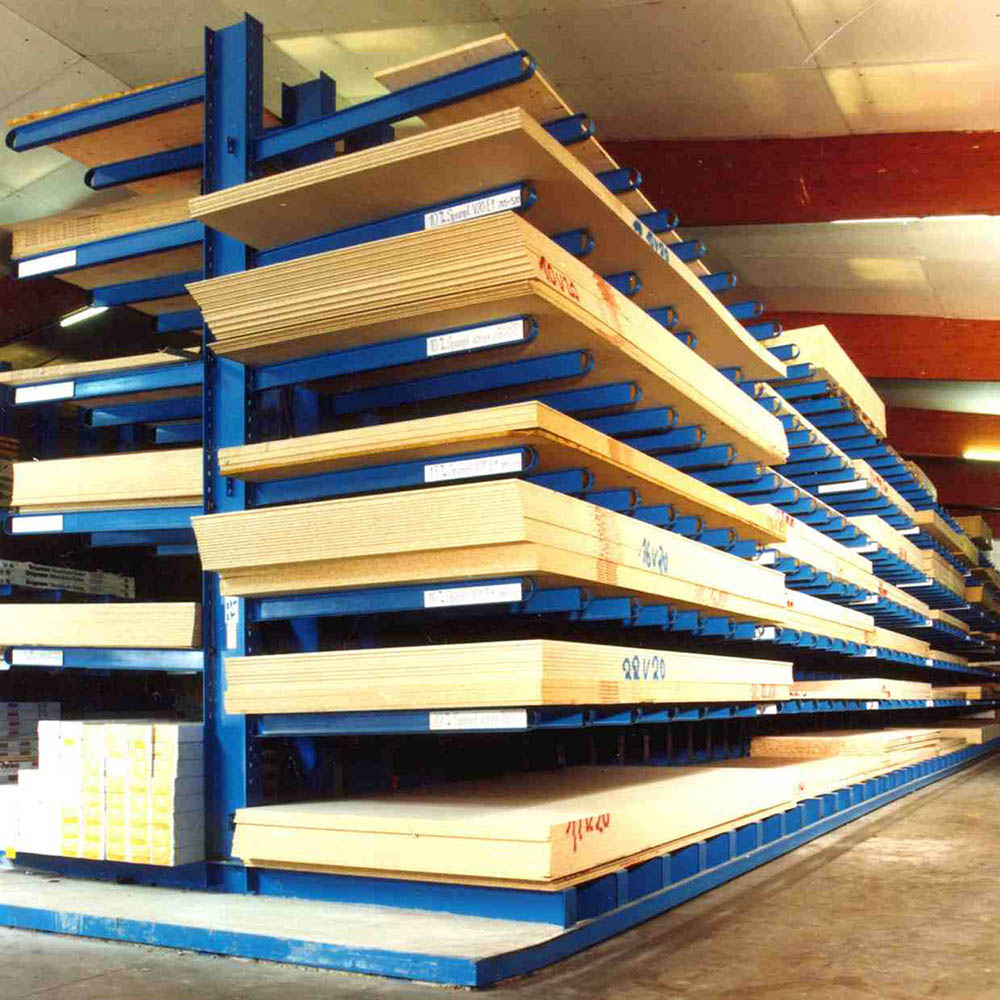 ---
Automatic storage system
An automated storage system - available either with partial or fully automated loading and unloading - gives you the ultimate optimisation of speed, dynamics, safety, energy and cost savings. Depending on your requirements, whole packages or single panels can be taken and transported to the transfer station, using the 'goods-to-man' principle
Highest possible handling turnover for picking orders
Choose from manual or fully automatic control, and change at any time
Interfaces with customer ERP software via a module
Storage and retrieval vehicle can service several lanes using cornering technique
Reduced investment costs and optimal price-performance ratio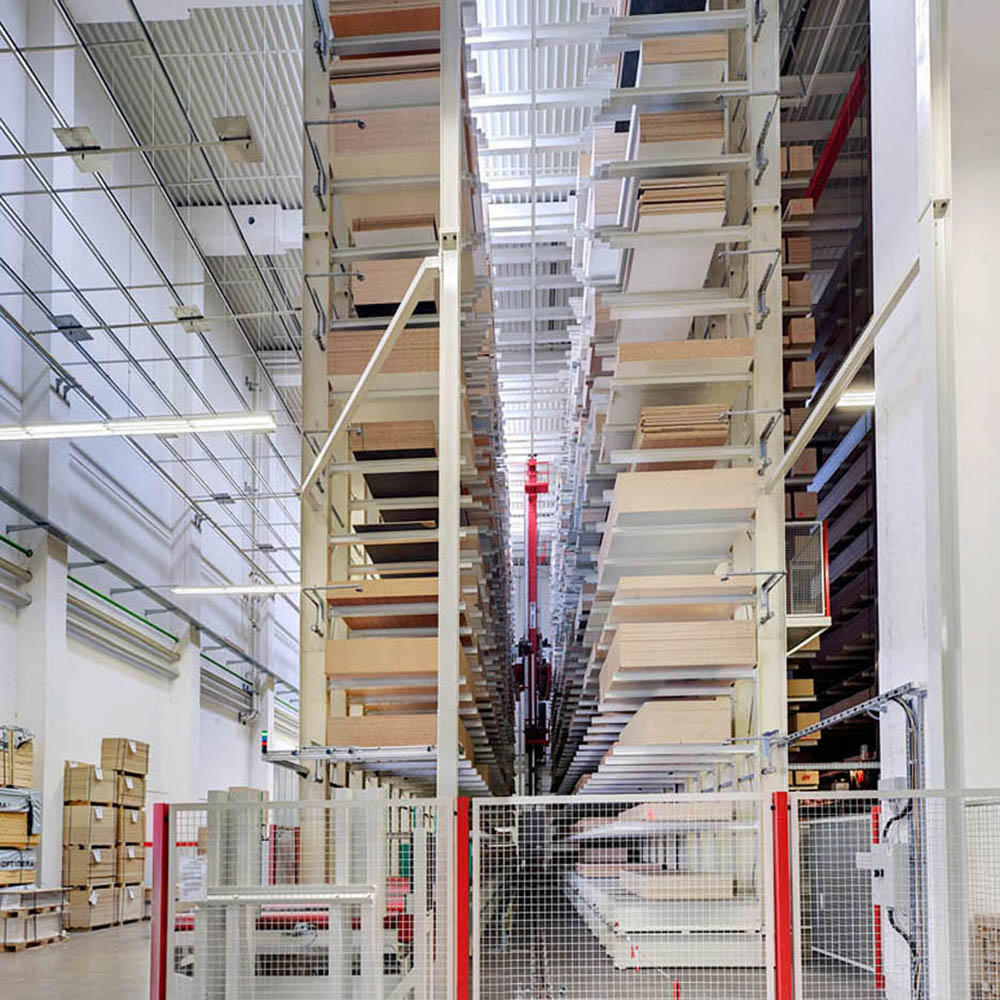 ---
Pallet Racks
Our pallet racks are constructed with durability in mind, and can offer you a much higher loading capacity compared to conventional pallet racking. That's because we use hot-rolled steel profiles instead of thin sheet metal, ensuring they are efficient even when bearing heavy loads, and are safe enough to be used in the warehouse or customer-facing areas.
At the same time, pallet racking is an economical furniture storage option because of the larger bay widths. This means they require fewer components than conventional rack systems with a lower load capacity.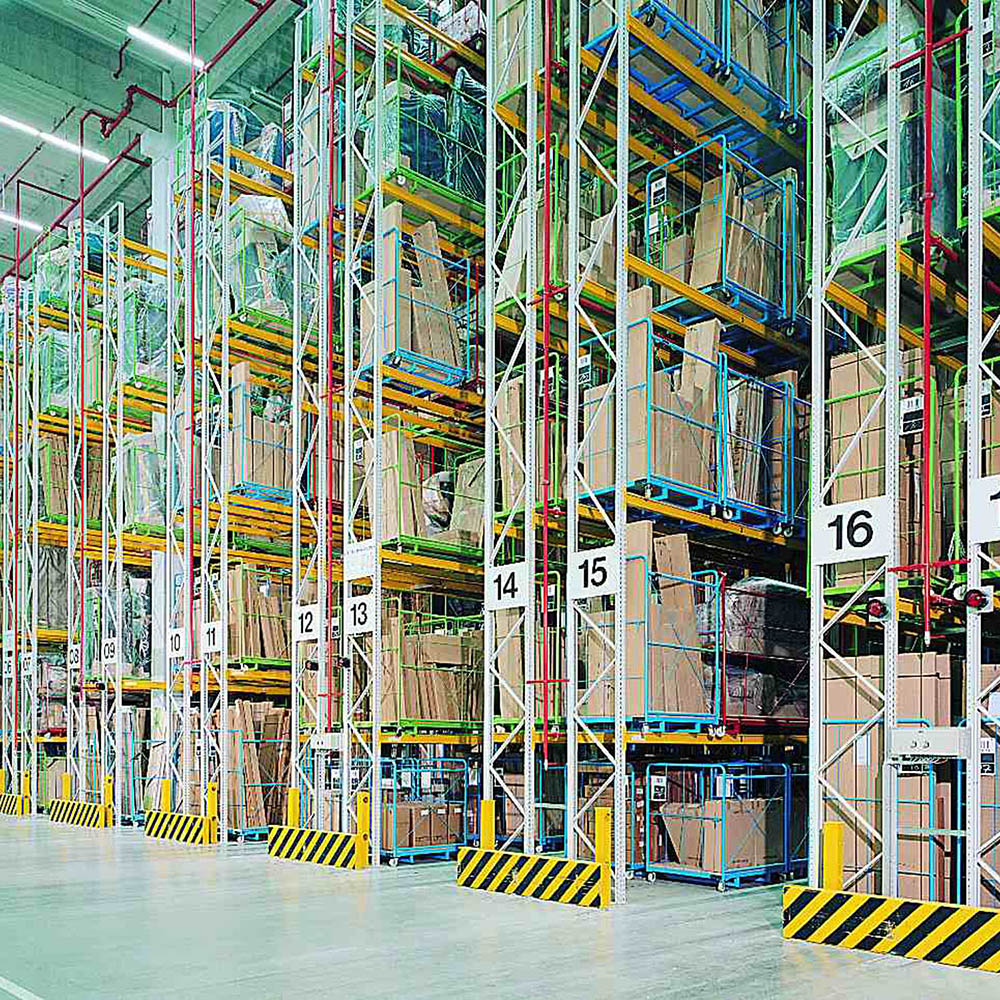 ---
Mezzanine floors
Using mezzanine floors can increase your existing storage area without extensions or expensive reconstruction work, giving you the space and the flexibility you need. The self-supporting construction fits into any existing building and can be customised individually according to the available space.
All our mezzanine floors are completed by stairs with grating or wooden steps and screw-fixed bannisters (including handrail and knee rail). Each floor can be configured for different loads and other requirements, allowing you to store scenery in a space-saving and highly visible manner.
Robust combination of rack systems and mezzanine floors
Additional second and third levels possible: 350kg/m² standard capacity load on the walkway between racks
Various platform surfaces available, depending on your requirements
Broad range of accessories (lighting, ladders and stairs) available