Outdoor warehouse racking
Our external racking systems don't just create additional storage space, they also offer outstanding protection against the elements such as snow, wind and rain. For example, using cantilever roofing and pallet racks ensures that wood and timber can be kept dry and aerated. We supply trapezoidal sheeting material for roofing, and we can also fit materials you supply.
OHRA racking systems advantages
Low cost and highly durable
Makes full use of the valuable outdoor areas
Different roof designs and structures available
Steel construction and foundational details provided for obtaining building permits
---
Roofed cantilever racking
In outdoor areas, roofed cantilever racking is the preferred choice for long goods that do not need to be stored inside. We will design the storage system taking into account additional loads caused by wind and snow in your region and then calculate the rack sections and roof accordingly - keeping you fully informed at every step.
Functional storage for outdoor areas
Our outdoor cantilever racking uses either high-quality hot-dip galvanised steel or powder-coated materials, depending on the outdoor location. We can provide drainage and back wall/side wall designs made of metal sheets or wood boards, weather protection nets or roller shutter systems. Roofing inclines can be individually adjusted according to the drainage system and forklift truck requirements. Whatever your outdoor space, we can deliver the ideal storage solution.
OHRA roofed cantilever racking advantages
Suitable for storing long goods or heavy loads outside
Racking uprights and cantilever arms made of solid, hot-rolled IPE steel sections
Clipped-in, height-adjustable arms
Outdoor storage options include roof, walls and water drainage system
Hot-dip galvanised outdoor storage design
Design specs provided for obtaining building permits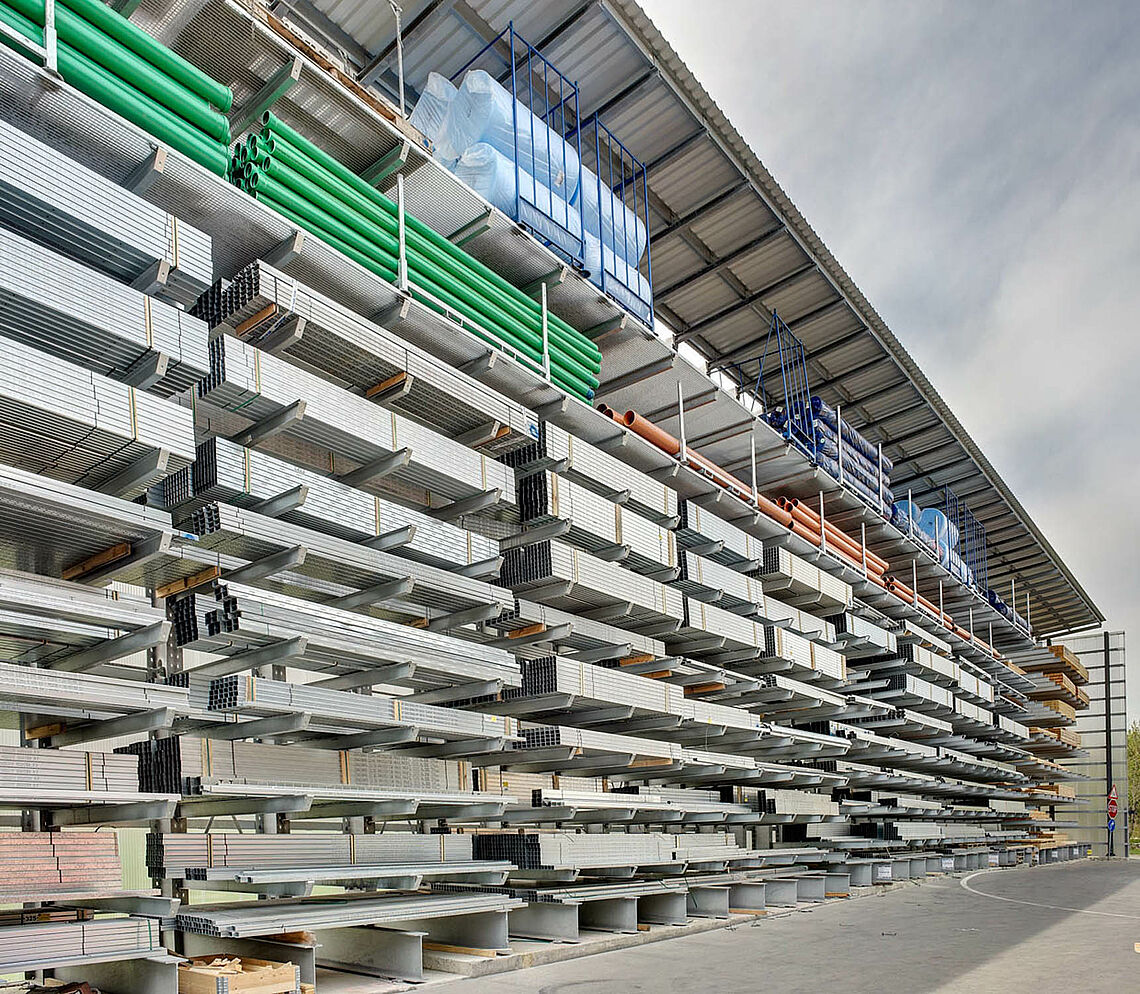 Roofed pallet racking
Roofed pallet racks are the ideal solution for weather-resistant goods that can be stored outdoors. Our roofed pallet racks are popular with garden centres, builders merchants and businesses where finished concrete parts, bagged goods on pallets or timber elements are stored in outdoor areas. We offer multiple roof options - including trapezoidal sheets or light panels - as well as different wall designs that protect your goods from all weather conditions.
OHRA roofed pallet racking advantages
Low cost and highly durable
Available in hot-dip galvanised or powder-coated finishes
High bearing loads available
Uses the entire outdoor area, saving valuable inside space
Different roof designs available