Many types of shelving systems quickly reach capacity, but OHRA racking systems are flexible enough to accomodate heavy products safely and securely, while taking up minimal floor space - keeping you and your customer happy.
---
Cantilever racks
Our cantilever racking is ideal for storing long, bulky and heavy building materials, including timber, plaster-boards, concrete, corrugated iron or steel. We use hot-rolled standardised steel without any front-face supports, which ensures uninterrupted storage of different product sizes, all on one level. All our cantilever racking is manufactured individually and can be positioned indoors and outdoors, and fitted with a roof or wall if required.
Rack columns and cantilever arms made of solid, hot rolled IPE steel for bearing heavy loads
Double-sided racking available as an option
Horizontally mountable and detachable cantilever arms (K+H system) minimises impact to racking and avoids damage to stock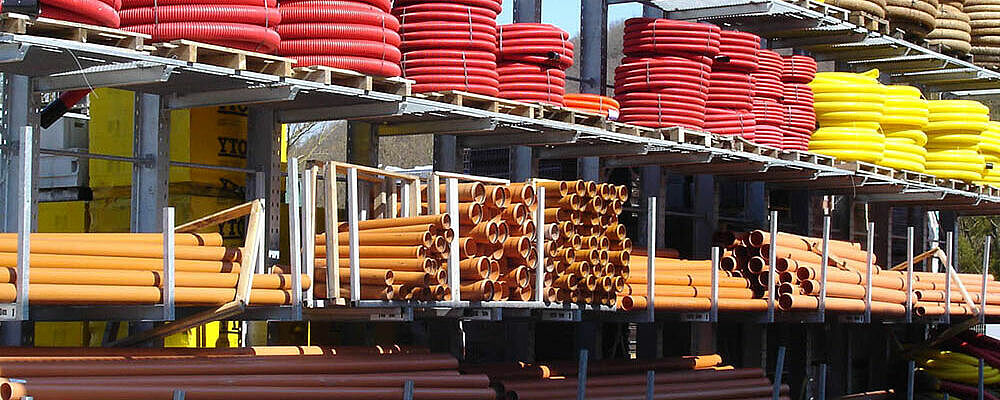 ---
Pallet racks
Most construction firms find storing heavy and bulky goods on standard pallet racks to be a challenge. Most conventional pallet racks are at full capacity and max out their loading capacities.
So, we developed our P3 pallet racking system especially for the construction industry. It makes light work of storing heavy loads such as bricks, concrete parts or cement bags. Our pallet racks are constructed with hot-rolled steel profiles, making them suitable for bearing extremely heavy goods, even in large storage quantities..
OHRA pallet racking advantages:
The low-cost, flexible storage solution
Max bay load: 32,000kg
Max beam load: 5,100kg
Standard beam width uo to 4,500mm
Hot-dip galvanised steel for outdoor storage
High quality powder-coated materials for indoors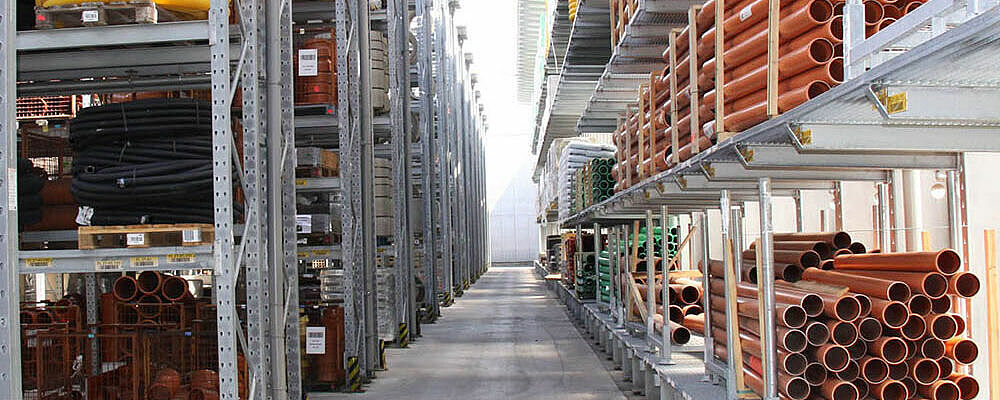 ---
Rack clad buildings
If you need outside storage at a lower cost, a rack clad storage system from OHRA can give you the flexible storage solution you need. Our rack frames serve as self-supporting elements for the roof and wall, so there's no need for expensive construction or structural foundation work, while still giving you all the benefits of a conventional racking system.
We design and build our racking systems individually according to customer specifications. This means you get the ideal height, usable depth, load-bearing capacity and section thickness required for your needs. Our comprehensive service, including design and measurement and racking assembly, ensures we take care of everything.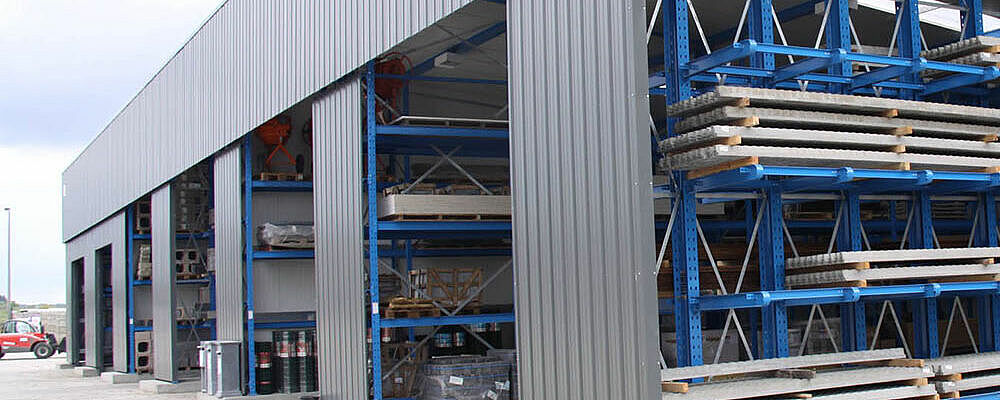 ---
Storage platforms
Whether you need an additional storage area, picking area, sales floor or workspace, our steel platforms are a low-cost way to double your warehouse space, without changing the existing structure. Our self-supporting plattforms can fit into any existing building and can be customised to suit your available space and needs.
Handles standard payloads 250kg – 1,000kg
Distance between supports of up to 8.5m.
Suitable for dynamic loads with a stacker
Up to 5 floors of additional storage
---
Vertical Racks
For building materials such as moulding, profiles, bars or tubes, OHRA vertical racking systems are by far the most customer-friendly option. We can design vertical racks of different sizes for use directly in your warehouse or showroom, and with different designs, colours and dimensions.